Fightingillini.com has just posted a solid summary of this year's summer league action by the Illini.  Big congrats go out to Will Krug who was chosen to the National Amateur Baseball Federation College World Series All-Tournament team after his performance with the Crystal Lake Cardinals.  For the summer, he hit .375 while scoring 45 runs and stole an incredible 55 bases in 57 attempts. 
Congratulations Will!
Some other notable performances by Illini this summer
For the Rochester Honkers, Justin Parr ended the season with a 24 game hitting streak and hit .370, third in the Northwoods League.  Also with the Honkers, Jordan Parr (glad to have you back!) hit .284 with 8 homers and 36 rbis.
Davis Hendrickson hit .270 for Waterloo and contributed 45 runs and 22 steals.  Teammate Brandon Hohl hit 8 homers for the summer.  Speed was a big trend this year for the Illini.  In addition to Hendrickson and Krug, Thomas Lindauer had 21 steals and Justin Parr had 26.
On the pitching end, Kevin Johnson finished the season on a high note, winning his last three games including a five inning shutout for his last game.  He went 3-3 for the season with a 5.22 ERA.  Drasen Johnson split duties between the rotation and the pen and sported a 2.36 ERA.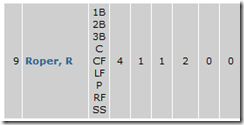 Finally, Reid Roper pulled a nine-position game for the Honkers on August 8th (here's the link to the nifty box score).  Roper ended the season going 9 for 21 in his last five games and finished at .250 with 6 homers and 30 rbis.  Of course you know Reid, he's not content to just be a position player.  He got to be on the mound too. For the summer, he went 3-3 with a 4.07 ERA. 
Nice going everybody and welcome back to campus!!
–
Related posts
Filed under: Summer League on August 16th, 2012 by: Thomas Nelshoppen