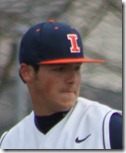 Three Illini players contributed to the Rochester Honkers' win in their last game of the Northwoods League season last night.  Kevin Johnson (left, 3-3) pitched a five inning shutout for the win while Reid Roper went 3 for 4 with a grand slam.
To top it off, Justin Parr went 1 for 3 to end the season with a 24 game hitting streak.
The Honkers defeated the St Cloud Rox 6-0.  Alas, it wasn't enough to keep them out of the NWL cellar with a 14-21 record for 2012.
Related posts
Filed under: Summer League on August 13th, 2012 by: Thomas Nelshoppen