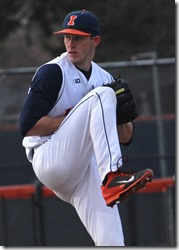 Illini reliever Tyler Jay was listed as one of Team USA's top prospects by MLB.com's Jim Callis yesterday. 
Says Callis:
"Undrafted in 2012 as an Illinois high school senior who topped out at 90 mph, he now has a fastball that peaks at 97 and sits at 93-95 mph, even when he works on consecutive days. Jay isn't physical at 6-foot-1 and 170 pounds, but he's very athletic and has a very quick arm."
Callis' praises are well deserved.  Jay didn't allow a single earned run in 16 2/3 innings in Team USA action this summer.  He did strike out 21 batters though.  For the summer, Team USA went 18-8-2 with Tyler's help.
Looking forward to seeing some more of that in the spring, Tyler!
Tags:
Team USA
,
tyler jay
Related posts
Filed under: Summer League on August 15th, 2014 | Leave a Comment! »