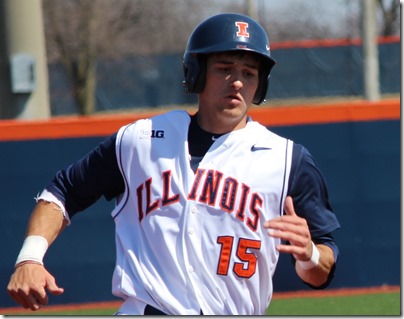 Each week when the Big Ten awards announcement is released, I eagerly read it in anticipation of another Illinois player getting their due.  Some weeks, it's apparent that our guys won't be named but some like this week, the powers-that-be at the conference office see it our way.  Indeed, this week one of our players was named.  Ryne Roper was honored as Big Ten Freshman of the Week and it is certainly well deserved.
Thirdbaseman Ryne Roper really did his part in last weekend's sweep of Penn State.  He went five for twelve while scoring three runs and driving home three.  Most importantly, Ryno has really started to hit lately.  While his overall batting average is .252, he's hitting .340 in Big Ten play. 
Official Big Ten Baseball weekly announcement
Congrats Ryne!
The Lee and Euline Eilbracht Memorial Scholarship Fund
The U of I Division of Intercollegiate Athletics has announced the Lee and Euline Eilbracht Memorial Scholarship Fund.  Named for the winningest coach in Illinois baseball history and his wife, the fund was established to "assist in the education of University of Illinois baseball student-athletes". 
Those who know Illinois baseball history, are familiar with Lee Eilbracht. He is a legend of the game as a player, a coach and a representative of the sport of college baseball.  Those who are interested in contributing to the Lee and Euline Eilbracht Memorial Scholarship Fund can find more information here at FightingIllini.com.
***
Finally, FightingIllini.com has game previews on the midweek games for this week.  The Illinois-Eastern game is just starting as I write this. 
Go Illini!!
Tags:
Awards
,
lee eilbracht
,
ryne roper
,
scholarship
Related posts
Filed under: Awards, Community stuff on April 22nd, 2014 | Leave a Comment! »