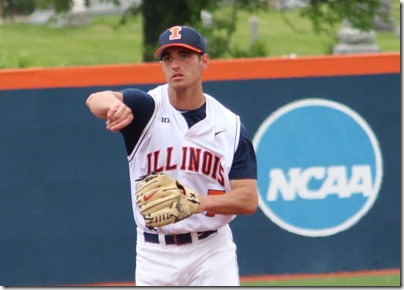 On Monday, the regional pairings were announced for the NCAA Baseball Championship and Illinois received a #6 overall seed, their first ever in school history.  Among others, the teams were announced that are going to play in the Champaign Regional on May 29th-June 1st. 
The Fighting Illini have brought up 2015 Baseball Tournament Central for this weekend. Keep an eye on that for all news regarding the regional's happenings. 
Champaign Regional
The Fighting Illini break down the Champaign Regional in their announcement.  They also include a link for tickets (hint, hint… get some and come out this weekend!). 
The schedule is out too… as much as it can be.  Regional top seed Illinois will be taking on #4 on Ohio Bobcats at 7pm Friday.  Here is the full schedule:
Friday, May 29
Game 1: #2 seed Notre Dame (36-21) vs. #3 seed Wright State (41-15), Noon
Game 2: #1 seed Illinois (47-8-1) vs. #4 seed Ohio (36-19), 7 p.m.

Saturday, May 30
Game 3: Game 1 loser vs. Game 2 loser, Noon
Game 4: Game 1 winner vs. Game 2 winner, 7 p.m.

Sunday, May 31
Game 5: Game 3 winner vs. Game 4 loser, Noon
Game 6: Game 4 winner vs. Game 5 winner, 7 p.m.

Monday, June 1
Game 7 (if necessary): Game 6 winner vs. Game 6 loser, 1 p.m.
It's a banner year for Big Ten teams in the NCAA Championship bracket.  Not only is it Illinois' first time being named as a national seed but as Chris Webb notes on B1GBaseball.com, the Big Ten's five nominations far exceeds its past successes in the NCAA postseason.  This year, Maryland, Michigan, Indiana and Iowa will join Illinois for the quest for Omaha. 
Here is the full interactive NCAA bracket. 
The boys were all together to watch the NCAA Selection Special today. 
#Illini NCAA Regional Notes First-ever National Seed (No. 6) 11th NCAA Tournament appearance (3rd in last 5 years) pic.twitter.com/0e0KLCOF6x

— #ILLINI #RoadToOmaha (@IlliniBaseball) May 25, 2015
If you hadn't noticed, many of the ballplayers have shorn their locks.  They have apparently decided that since the win streak is over, they can go back to the 'clean' look. 
Wrapping up the Big Ten Tournament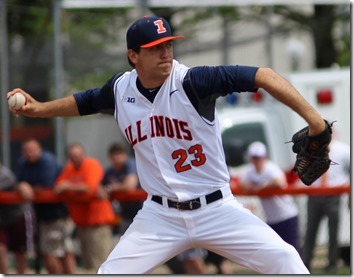 Before too much time is passed, I want to recognize the performances of John Kravetz (above) and Ryan Nagle at the Big Ten Tournament.  They were both named to the All-Big Ten Tournament team.  Nagle batted .375 and scored four runs while Kravetz pitched a complete game shutout. 
Congratulations, Ryan and John!
Now if you haven't gotten your tickets for this weekend, order them now.  Rumor has it, they are going quick. 
Tags:
2015 Champaign Regional
,
Awards
,
john kravetz
,
NCAA Regionals
,
ryan nagle
Related posts
Filed under: NCAA Regionals on May 25th, 2015 | Leave a Comment! »