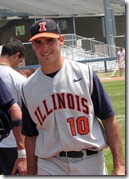 Any question as to former Illini Tanner Roark's ability to pitch under pressure has now been put to rest.  Roark's win for Washington Wednesday night clinched the NL East for the Nats with an 87-63 record.  He did it in style too, pitching seven shutout innings and not allowing a single walk.
MLB.com's wrap-up of Roark's win on Wednesday
Roark is now 14-10 with a 2.85 ERA.  His 14 wins is tied for the team lead.  There has been some question to Roark's role once the Nats get to the postseason.  My guess is that the Nationals will go with what got them this far and he'll continue to start.  ESPN has an interesting take on the question. 
***
In other news, two current Illini were listed as ranked prospects in their respective summer leagues.  Kevin Duchene tops out at #19 for his work in the Cape Cod League and Tyler Jay checks in at #8 with Team USA.
Congrats to both! 
Tags:
mlb
,
tanner roark
Related posts
Filed under: Former Illini in the pros on September 17th, 2014 | 1 Comment »