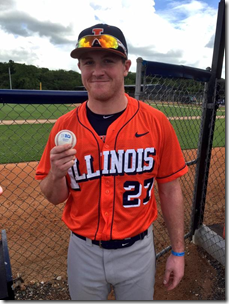 photo via Twitter @IlliniBaseball
The Illinois Baseball team has been in the Dominican Republic for two days and they have gotten three games in already.  They certainly have held their own winning all three.  Pat "The Bat" McInerney has a lot to do with their success as he's homered twice in as many days.  He's definitely making his case for some playing time in 2015 to Coach Hartleb.
Both wins on Monday were against the Yankees… the Dominican Instructional League Yankees, that is. 
If you want to see some of the photos from the DR trip, FightingIllini.com has a gallery posted.  The program is doing a great job keeping us all posted on their trip via the website but for more frequent updates, definitely check out their Twitter feed @IlliniBaseball.
Bright and early on Tuesday there will be two split squad games against the Astros DIL team.  Note that the DR games have been added to 2014-2015 schedule web page at FightingIllini.com. 
Good luck Illini!
Tags:
Dominican Republic trip
,
pat mcinerney
Related posts
Filed under: Off Season Happenings on November 24th, 2014 | Leave a Comment! »