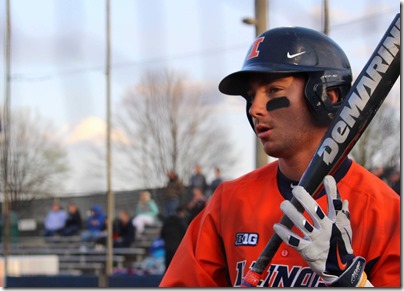 A friend of mine observed to me, "Casey Fletcher just doesn't seem to ever get fooled by a pitch".  He probably shouldn't.  He had a good teacher in his father, legendary Illini and former MLB player Darrin Fletcher. 
Well, Casey Fletcher wasn't fooled much this past week.  He helped himself to the Big Ten Co-Player of the Week award.  He hit a cool .500 scoring five runs and driving home three more.  His offense helped the Illini to a 4-0 record extending their win record to 17 straight games. 
This isn't a new thing for Casey, either.  He's leading the Illini in hitting with a nifty .350 average and is tied for the team lead in runs with 38.  More importantly, Casey has a penchant for the big hit, the clutch rbi.  You can see it on his face when Illinois scores the key run. 
It's the second time Fletcher has been named as Big Ten Player of the Week.  He received the honor one year ago when he also received the Louisville Slugger Player of the Week. 
Congrats, Casey! 
Tags:
Awards
,
Casey Fletcher
Related posts
Filed under: Awards on April 27th, 2015 | Leave a Comment! »