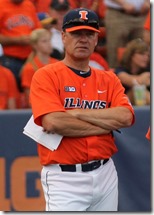 The wait is finally over.  Illinois head coach Dan Hartleb will be back as head coach with the Illinois baseball team for the 2015-16 season. 
Pending UI Board of Trustees approval, Hartleb received a five-year extension which will keep him on the team through the 2020 season.  Fighting Illini Director of Athletics Mike Thomas announced the decision on Wednesday:
"I'm excited about where Dan and his staff have our baseball program, which is on top of the Big Ten and among the nation's best.  Dan is committed to developing our student-athletes into fine young men, on and off the field, and sets a great example with his tireless work in the community. We all look forward to the future of Fighting Illini Baseball under Dan's leadership."
Smart move and probably one of the least stressful matters that Mike Thomas has had to deal with as of late. 
I'm sure I'm not the only Fighting Illini baseball fan that breathed a sigh of relief when I heard this.  To say that Hartleb had a banner season in 2015 would be a definite understatement.  Under his care, Illinois won a school-record 50 games and advanced to the Super Regionals for the first time.  For his effort, Hartleb was named Big Ten Coach of the Year. 
Since his stock was so high, the idea that Dan Hartleb might take to greener pastures did cross my mind especially since much of the 2015 talent on Illinois' team had graduated or been drafted.  Fortunately, for Illinois baseball fans, Dan Hartleb is here to stay, at least for another five years. 
Tags:
coach hartleb
,
mike thomas
,
sign
Related posts
Filed under: Announcements on July 15th, 2015 | Leave a Comment! »