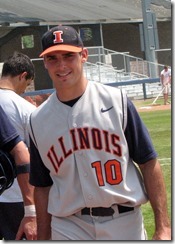 Seems former Illini pitcher Tanner Roark who is now pitching for the Washington Nationals, is making the headlines more and more.  CBS Chicago covered Roark's return to Illinois as he took on the Chicago Cubs today.  Roark is a Wilmington High School alum so there were some friendly faces in the crowd. 
Unfortunately for Roark, the Cubs were not gracious hosts today and handed the Nationals a 7-2 loss. 
This season, Roark has been a bright spot in the Nationals' pitching rotation with a 7-5 record and miniscule 2.98 ERA.  He's helped the Nats to a league best 3.04 team ERA which is has kept them in first place in the National League East division. 
Tags:
mlb
,
tanner roark
Related posts
Filed under: Former Illini in the pros on June 27th, 2014 | Leave a Comment! »