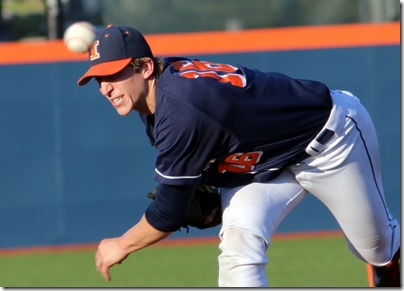 Can Rob McDonnell and Co. keep the Illini in the polls once the season starts?
As the University of Illinois Urbana campus empties and the holidays approach, the Illini Baseball team received a gift (or perhaps a curse depending how you look at it).  Illinois (32-21) was ranked in the nationwide preseason polls among Division I schools.  According to the Collegiate Baseball Newspaper, the Illini eked in at #40 in the preseason poll which came out today. 
Rival Big Ten team Nebraska (41-21) came just two spots higher at #38.  Conspicuously missing was previous powerhouse Indiana who received votes but did not place in the top 40.  Vanderbilt (51-21) placed #1 and Texas Christian (48-18) came in second. 
I've tried to keep this under my hat.  But apparently the word is out.  The Fighting Illini Baseball team is a team to be reckoned with. 
***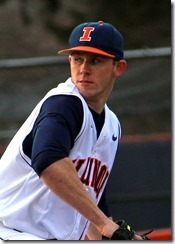 On the other hand, the word about Tyler Jay just can't keep out of news.  To add to his host of awards and achievements this year, Jay has added another.  He was named to the Louisville Slugger Pre-Season All-American Second Team for 2015. 
Jay's performance in the 2014 for the Illini had a lot to do with it of course.  He was 10 for 10 in save opportunities with a 1.94 ERA while ranking second on the team in strikeouts with 47 in 41 2/3 innings.  I'm sure his effort on the USA Baseball Collegiate National Team factored in too.   His 0.00 ERA in 15 appearances while striking out 21, brought him national attention. 
The big question for Coach Hartleb is what kind of role Tyler Jay will play in the upcoming season.  Jay has obviously been quite successful out of the bullpen but will scouts give him the second look he deserves if he isn't in the rotation? 
Tags:
Awards
,
polls
,
Robby McDonnell
Related posts
Filed under: Awards on December 22nd, 2014 | Leave a Comment! »