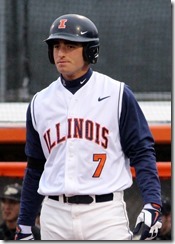 It seems Illini infielder infielder/pitcher Reid Roper has been making headlines all season helping his summer league team Rochester Honkers win ballgames (here are just a couple from the Northwoods League website and the Post-Bulletin). 
Now, Roper is in the news because he is breaking another record.  According to the Post-Bulletin, Roper holds the all-time hits record for the Honkers. On Monday night, he collected his 180th hit in a Rochester uniform which surpassed Mike Maslowski's record which stood for 18 years. 
Play was stopped after Roper hit his single on Monday night and he received the ball that was hit.  Unfortunately for Roper and the rest of the Honkers, Rochester lost the game to St. Cloud Rox 5-4.
Roper would have preferred the win, of course:
"The loss detracts (from the hits record) a little bit; obviously you want the team to do well and get the win…It's definitely special to me; the hits record is looked upon as a high achievement, I think."
Reid Roper already holds the team record for career at-bats, games played and walks. 
Tags:
northwoods league
,
reid roper
,
Summer League
Related posts
Filed under: Summer League on July 30th, 2014 | Leave a Comment! »