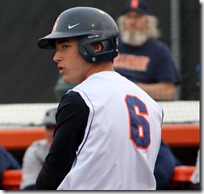 Congrats to Illini shortstop Adam Walton.  It was announced yesterday that Walton was honored as an Louisville Slugger Freshman All-American Shortstop.
Here is the full list of Louisville Slugger Freshman All-American honorees.
Walton topped all Illini with a .329 batting average and scored 22 runs while maintaining an 18-game hitting streak during the 2014 season.
—
In other news, today the MLB First-Year Player Draft began.  No news yet on Illini players yet but tonight's activities included the first few rounds.  Indiana's Kyle Schwarber was chosen in the 4th round as the Big Ten's first pick and highest in Indiana history.
Keep an eye on the draft the next two days here.
Good luck, prospective Illini!
Tags:
adam walton
,
Awards
,
first-year player draft
Related posts
Filed under: Awards on June 5th, 2014 | Leave a Comment! »