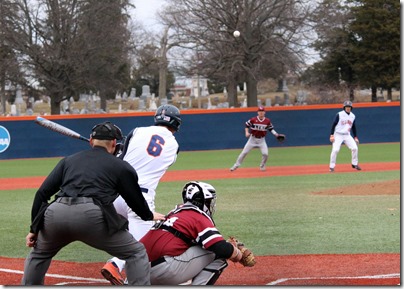 Adam Walton drives in a run with a double in the sixth inning today
In a game scheduled just two days ago, Illinois defeated the Lindenwood University-Belleville Lynx 7-1 at Illinois Field on Wednesday.  It was a team effort as the Illini used 23 players including five pitchers. 
This gives Illinois a 15-4-1 record for the 2015 season. 
After today's win, Cody Sedlock is now 3-0
Five Illini pitchers combined for a season-high 13 strikeouts including five by J.D. Nielsen and four by Nick Blackburn.  Cody Sedlock who pitched scoreless fifth and sixth innings.  He got the win and upped his record to 3-0.  He is now second on the team in wins to Tyler Jay.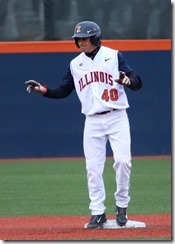 Pat McInerney got Illinois off to the right start by driving home Ryan Nagle in the first.  The LU-B Lynx retaliated in the third with a run of their own.  In the bottom of the third, the good guys took the lead for good with three run with a key 2-run hit by Casey Fletcher. 
Illinois solidified their lead in the sixth by adding on three more runs.  Will Krug (right) who was back in the lineup, proved he wants to stay there by doubling home a run.  Adam Walton who was 2 for 4, doubled home Krug.  Pinch hitter Dan Rowbottom then drove home Walton for his first career rbi. 
Random Ramblings
From my vantage point, I've never seen Nick Blackburn pitch so well.  He was 1-2-3 for the 8th and the 9th with four strikeouts.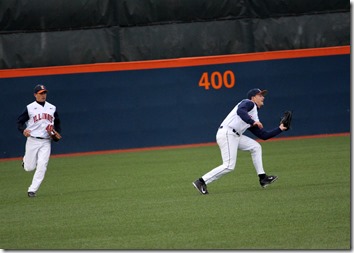 Dan Rowbottom sees some action in left field
The Hartleb Nine was quite different than what we're used to by the end of the game.  From left to right, Illinois had Dan Rowbottom, Josh Ferry and Trevor Murphy.  At first, we saw Anthony Drago.  Catching was Kelly Norris-Jones and at third, it was Matthew James.  A few of the faithful fans in the stands were definitely checking their rosters.  It was good to see, though.  Let's keep everyone fresh.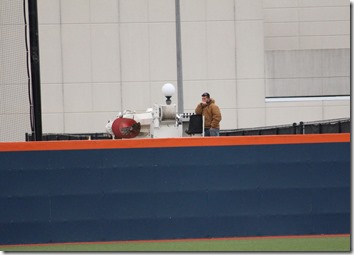 Don't tell me that this guy didn't have a good view of the game.  He was one of the construction people working on the new video scoreboard.  It's been progressing every time I see it. 
Next up
The Illini will be at home this coming Friday.  They'll be hosting the University of South Florida Bulls at Illinois Field.  Friday's game is at 4pm.
Another scheduling note:  The Northwestern series on April 3-5, originally scheduled to be played in Evanston, will be played here at Illinois Field. 
Tags:
Casey Fletcher
,
cody sedlock
,
dan rowbottom
,
josh ferry
,
Lindenwood
,
nick blackburn
,
Robby McDonnell
,
trevor Murphy
Related posts
Filed under: Game Recaps on March 18th, 2015 | 1 Comment »