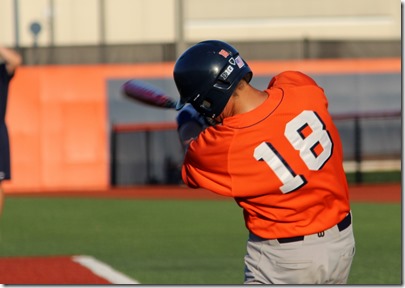 Anthony Drago takes a cut in Game 3 of the Orange and Blue Series on Friday
Friday was third and final game of the Orange and Blue Fall Ball World Series.  What a beautiful day it was for baseball!  The late afternoon game with temps hovering in the low 80s with bright sunshine makes you wonder if a fall schedule isn't such a bad idea. 
Rob McDonnell made the start for the Blue Team and Ryan Castellanos was on the bump for the Orange Team.  McDonnell who had an especially good summer in the Northwoods League, looked good only giving up one run.  The Blue Team got on top in the third scoring three runs.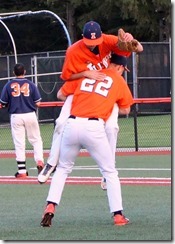 The Orange Team pecked away at the lead though, scoring two in the sixth and one more in the seventh, giving them a 4-3 lead. 
The big story was the closer of the game, redshirt freshman Doug Hayes.  Word around Illinois Field is that Hayes is a new walk-on that Coach Hartleb is giving a try.  He pitched the ninth for the Orange Team and got the job done.  It may just be one inning for Doug (seen right, congratulated by Nick Blackburn) but it was a big test and he survived.
More photos from Game 3 at the Illinois Baseball Report photo gallery. 
My thoughts on Illini baseball team going into the off-season
I don't like jinxing the team with false hopes so I won't be overly-optimistic.  However, it seems that Coach Hartleb may have nice problem on his hand.  Too much pitching.  Consider this:  the starters now include established hurlers Kevin Duchene, John Kravetz and Drasen Johnson.  Now throw in Rob McDonnell who is on top of his game after a great summer plus Ryan Castellanos who is an experienced starter for the Illini. Not only that, there are rumors that Tyler Jay may be making a move to the starter role.  
Coach Hartleb may need to think outside the box to resolve this pleasant problem that has presented itself.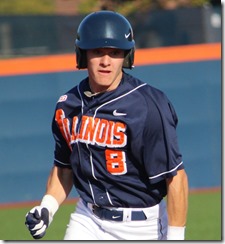 We saw plenty of #8 Ryan Haff (left) during this week's series.  He was playing second base and hitting the ball hard too.  While we certainly have a plethora of players who can play that position, a shift to shortstop for Adam Walton is a possibility if Hartleb wants to greenlight Haff for 2015. 
The biggest general observation for 2015 is that this team really hasn't lost a lot from last year's squad that went 32-21 and 17-7 Big Ten.  A lot of those young players from last year have developed their skills.  In short, this 2014-15 team has a lot of potential as long as they stay HEALTHY!
***
Rumor has it that the Illini Dugout Club has reserved the date of January 24, 2015 for the annual Hot Stove Banquet.  Mark your calendar!  I went for the first time last year and had a blast. 
Tags:
adam walton
,
Anthony Drago
,
coach hartleb
,
orange and blue series
,
Robby McDonnell
,
ryan castellanos
,
Ryan Haff
Related posts
Filed under: Off Season Happenings on September 27th, 2014 | Leave a Comment! »