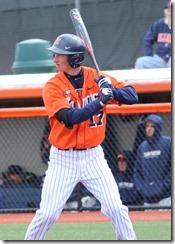 It's a new one on me.  Illini infielder Matthew James can pitch.  Apparently pretty well. 
And James (right) pitched REALLY well on Saturday as he threw a complete  game no-hitter for the Lexington Snipes against the Joliet Admirals.  Behind James' pitching, the Snipes defeated the Admirals 6-1. 
The line on James:  7 IP, 0 H, 2 BB, 12 K, 1 ER.  James also went 1 for 2 with an rbi at the plate. Here is the boxscore for the record.
James is off to a great start for Lexington hitting .429 in 13 games.  From the hill, he's 2-1 with a 2.70 ERA and 23 strikeouts in 20 innings.  Lexington is now 8-5 and in third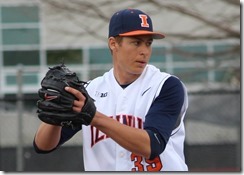 place in the Midwest Collegiate League.  
James is the second Illini player to pitch a no-hitter in summer league play in 2014.  Andrew Mamlic (left) threw a no-no back on June 21st for the Lombard Orioles.  Mamlic's performance against the Sheboygan A's was one walk away from a perfect game. 
Congrats Matthew and Andrew!
Tags:
andrew mamlic
,
matthew james
,
no-hitter
,
shutout
,
Summer League
Related posts
Filed under: Summer League on June 23rd, 2014 | Leave a Comment! »