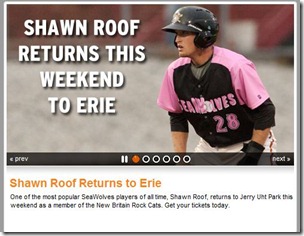 I don't think anyone who remembers the Shawn Roof era of Illini baseball will be too surprised by this.  But it is a testament to the former Illinois shortstop's infectious personality.
Essentially, Roof's former minor league team, the Erie SeaWolves are marketing his return to Erie, as an opponent, to get fans to the park.  Roof now plays for the New Britain Rock Cats and will be returning to play his old team his weekend.  Roof is a fan favorite pretty much wherever he plays and Erie knows that, calling him "one of the the most popular SeaWolves of all time".
Good luck, Shawn and nice pink uni, btw!
In other news
Congrats to Reid Roper who was named to Louisville Sluggers' Freshman All-American Baseball Team as a multiple position player!  Roper's work on the mound and at second base got him the honor which was the third time in five years an Illini landed on Louisville Sluggers list.
Congrats, Reid!
Tags:
Awards
,
minor leagues
,
reid roper
,
shawn roof
Related posts
Filed under: Awards, Former Illini in the pros on June 7th, 2012 by: Thomas Nelshoppen