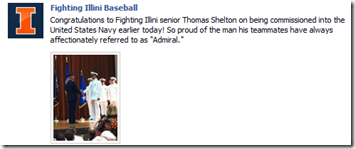 Earlier today, Illinois baseball player Thomas Shelton was commissioned into the United States Navy.  Above you see the Facebook posting from Fighting Illini Baseball announcing this.
Now, I have a connection with Shelton.  He's a student in the Technical Systems Management program of the Department of Agricultural and Biological Engineering.  That's where I work.  Essentially, I'm his IT guy.  I've talked Illinois baseball with his advisors and they all spoke about Thomas with the highest regards.  Polite young man, smart student… all the stuff you expect to hear about Hartleb's crew and more.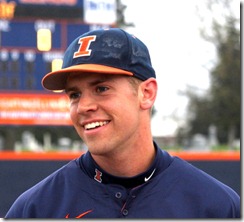 So when Shelton came to the plate this season, I rooted for him extra hard.  Not that I needed to… he's had a pretty good season.  Shelton worked his way into the lineup as a DH midway through the season and even had a seven game hitting streak.  Especially big was a key homerun he had against the Buckeyes.
But when it comes down to it, Shelton has bigger plans.  I've heard about his ideas to go into the Navy for a while and apparently they have big plans for him, too.    
This couldn't happen to a greater guy.   Good luck, Thomas!!
Related posts
Filed under: Feature on May 14th, 2012 by: Thomas Nelshoppen