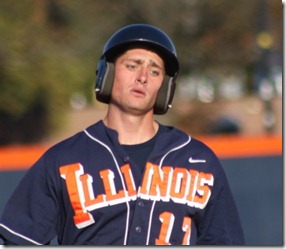 Jordan Parr:  Team leader in HR (5), rbi (42), slugging (.534) and doubles (13). 
One last home series for 2012!
After getting swept by Penn State last weekend, the Illini (26-24, 9-11 Big Ten) will need to have a really good series against the Golden Gophers of Minnesota this coming weekend to have any hopes of making the Big Ten Baseball Tournament.  With a sweep of Minnesota combined with a Indiana 2-1 defeat of Ohio State. we might be able to sneak in (if I have my tournament math right).
Which reminds me, this weekend's series' schedule is a bit different.   This upcoming series' games will take place on Thursday, Friday and Saturday most likely to accommodate travel for next week's Tournament.
Stat of the Day: Despite getting swept by Penn State last weekend, Illini starting pitchers gave up a total of seven earned runs for the three games.
While I'm on the stats kick, I'll throw this out:  Illinois still leads the nation in double plays turned with 66.  They're four ahead of University of Nevada.
A quick rundown on the Minnesota series:
Minnesota Golden Gophers

May 17, 2012
6:35 pm CT (don't forget, it's Thursday!!)
May 18, 2012
6:05 pm CT
May 19, 2012
12:05 pm CT
Illinois Field
Champaign, IL
Program website link
2012 Record  28-25 (10-11 Big Ten)
Head Coach:  John Anderson
Key player: TJ Oakes (7-3, 1.94 ERA)
What success the Golden Gophers have had this year has not come from their offense.  Rather, it's their pitching led by starter TJ Oakes and his nifty 1.94 ERA that you need to be concerned about.  Overall, Minnesota hurlers sport a stingy 3.10 ERA.  Their bullpen can be pretty tough with pitchers like Kevin Kray (2.12 ERA), Ben Meyer (2.50) and Dustin Klabunde (3,13) doing their part.
That said, Minnesota has been streaky in 2012.  They won eight in a row in late March only to lose four in a row after that.  They won five straight immediately afterwards but gave up a sweep to Nebraska just last weekend.
Which Minnesota will we see this weekend?
Random Ramblings
Thursday's game will be televised on the Big Ten Network for those out-of–towners who want to see it.  Otherwise, audio will be available for all three games via Illini All-Access or WDWS-1400AM.  Of course, don't forget Gametracker, too.
If tradition holds, you can expect Senior Day to be on Saturday. This is your last chance to see the Illini at Illinois Field this season.  Come on out and watch some good Big Ten action!
Good luck this weekend, Illini!!
Related posts
Filed under: Game Previews on May 15th, 2012 by: Thomas Nelshoppen