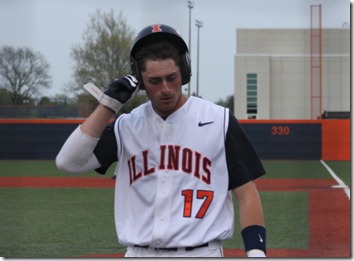 Jordan Parr leads the Illini with a .385 batting average
The Hoosiers are coming to town!  Indeed, the Illini are in the midst of a eight game home stand so take your chance to see them while they are in town.  It's Easter weekend so bring the family before you settle down to dinner on Sunday.  I will be out of town Saturday and Sunday with my family so bring an extra fan for me. 
Indiana is riding high on a 4-2 conference record at the moment defeating two teams that probably aren't up to the standards of say, Nebraska.  This weekend would be a good time to take them down a notch.   Illinois having recovered nicely from their Cornhusker series have won four of their last five games and show no signs of faltering…
…especially Kevin Johnson. He's won five games in a row.  He's the first Illini pitcher to do so since Brian Blomquist in 2005.  Johnson has a tasty 2.86 ERA (and only 10 walks) to go with his 5-1 record. 
Perhaps it has been the recent opposition (ok, I know it was) but our hitting has improved as of late.  Hard to believe that batting average-wise, Justin Parr is our "worst" full time hitter.  Believe me, that's not taking anything away from Justin by any stretch.  We all know how much he contributes in the lineup (22 runs, 22 rbis).  It just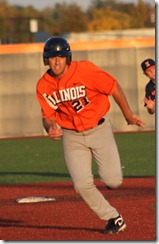 shows the depth of our lineup. 
Is Coach Hartleb beginning to see the value in Bill Charvat (left)?  I noticed earlier in the year how Bill would do what it would take to help the team whenever he got put in.  Now, he's getting more playing time and already has 12 rbis.  The game against Bradley was no exception when he banged out an rbi double in the ninth inning almost rally. 
A quick rundown on Indiana:
Indiana Hoosiers

April 6, 2012
6:05 pm CT
April 7, 2012
3:05 pm CT
April 8, 2012
1:05 pm CT
Illinois Field
Champaign, IL
Program website link
2012 Record  13-16 (4-2 Big Ten)
Head Coach:  Tracy Smith
Key player: Sam Travis (.390, 22 rbis)
Hoosier freshman infielder Sam Travis is hot now.  He was honored by the Big Ten last week with both the Player of the Week AND Freshman of Week awards. 
Indiana may be 13-16 but they've picked up a bit lately.  They've won six of their last nine games.  That includes two of three against both Iowa and Penn State in the past two conference weekends. 
Their homerun power isn't what it used to be but check out their triple totals.  They have 11 for the year.  That's almost as much as the Illini.  *grin*
Random Ramblings
I'm excited to announce that Champaign-Urbana's online magazine Smile Politely has asked me to write a weekly column on the Illinois baseball team.  Smile Politely has always made an effort to cover the team and this is one more (bigger) step towards that effort.  My first column just got posted this morning.  Thanks to SP for the opportunity!!
In other news, former Illini catcher Chris Robinson was dropped by the Rangers organization just a few days ago but it didn't take long before somebody picked him up.  The Baltimore Orioles picked him up yesterday. 
Good luck this weekend, Illini!!
Tags:
bill charvat
,
brian blomquist
,
chris robinson
,
indiana
,
Justin Parr
,
Kevin Johnson
Related posts
Filed under: Game Previews on April 5th, 2012 by: Thomas Nelshoppen