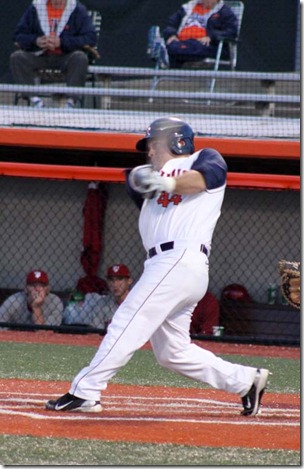 Casey McMurray hits a solo shot in the bottom of ninth to win the game…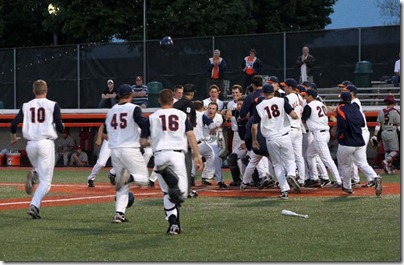 … and was warmly greeted at the plate by all his teammates.
Casey McMurray's timing was impeccable tonight.  With one out in the bottom of the ninth and the score tied, he chose that moment to hit his first homerun of the year.  That blast over the left field wall gave Illinois a 4-3 win over Indiana in the first of a three game series.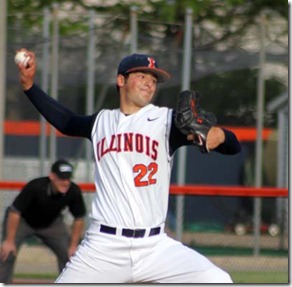 Kevin Johnson (above) pitched like a winner tonight allowing only two earned runs in 8 2/3 innings.  Unfortunately, he didn't get the elusive 'W'.  After a hit-by-pitch and later, a walk in the 9th, Coach Hartleb brought in freshman Luke Joyce to get the last out, giving Joyce the win.  Knowing Johnson though, he's just as happy with Illinois winning the game.
It was a low scoring game but the fans did get to see some longball.  Four homers were hit in tonight's game, three by the Illini.  Matt Dittman hit a long shot that landed over the right centerfield wall in the second inning.  Later, in the sixth, Brandon Hohl hit a solo homerun.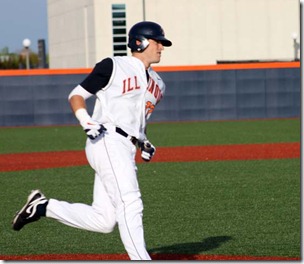 Matt Dittman rounds third on his homer during the second inning…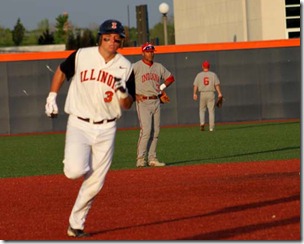 …and Brandon Hohl follows suit in the sixth.
Actually, all the homers were solo efforts.  No team scored more than one run in an inning.  The largest lead was Indiana's two run balance in the 4th.  Yes,it was a very tight game.
More photos from today here.
Random Ramblings
I'd like to wish Ron S a speedy recovery from surgery.  Many of you who attend Illinois games recognize Ron and his trademark cheering at the games.  He has definitely been missed.  Rumor has it that he will try to make it to a game this weekend.  That's great news!
Next up:
Same time,  same team tomorrow.  We play Indiana Friday night at 6:05pm at Illinois Field.
Go Illinois!!
.
Related posts
Filed under: Game Recaps on May 19th, 2011 by: Thomas Nelshoppen