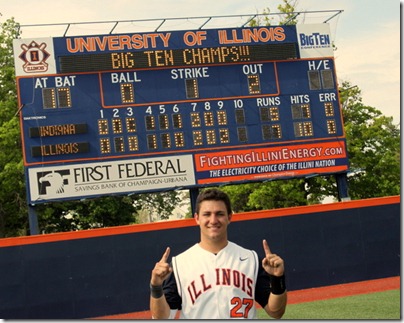 Adam Davis, who contributed a solo homerun Saturday, is ready for the tournament.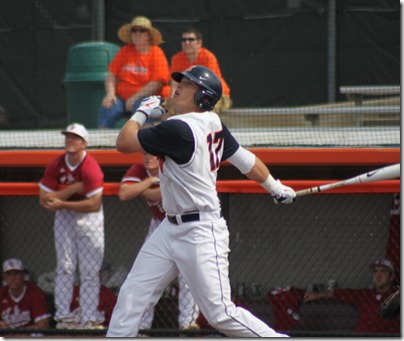 The shot that launched a Big Ten Championship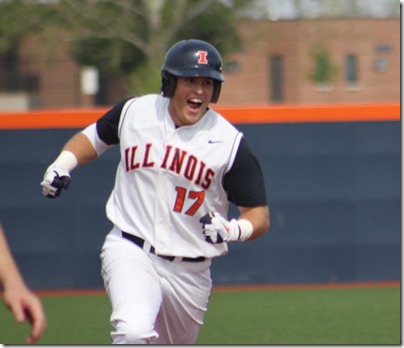 The photo of Matt Dittman directly above pretty much says it all.  When we look back at this past weekend, there's no doubt it will remain one of the most remembered moments of Illinois Baseball history.  As Dittman hit the walk-off homerun to clinch a half-share of the Big Ten Championship on Sunday, that concluded the second game in the series that the Illini won on a walk off homerun.  The other they won in the eighth inning.  The fans got their money's worth this weekend, that's for sure.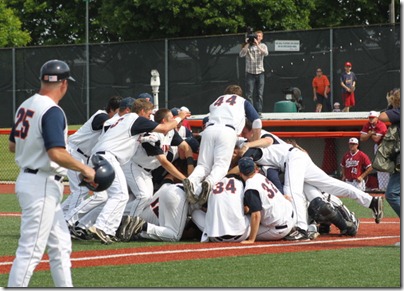 The resulting fracas after Ditt's homer on Saturday
Dittman wasn't alone in his heroics this weekend, though.  That's usually the case with the Illinois baseball team .  Justin Parr drove in five runs on Friday and Davis Hendrickson brought in the winning runs in the eighth that day.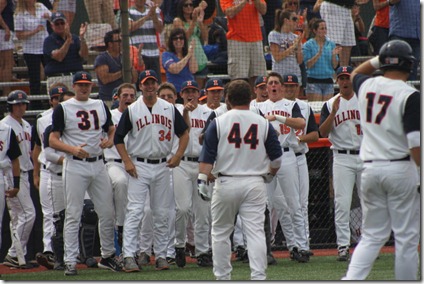 McMurray's homer on Sunday (Kimes, are you wearing you uni backwards?)
And Casey McMurray, the everyday left fielder who came into this weekend with nary a homer to his name this season, not only hit a walk-off homerun to win it on Thursday but contributed with another Saturday.  Timing is everything in baseball, they say.
Ironically, the Illini hit five homers this weekend but none in their 13-12 win on Friday.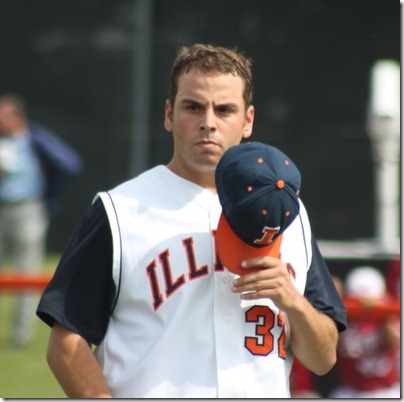 Wes Braun (above) came in and pitched a perfect two innings for the win on Saturday.  A word about Wes, he had only given up ONE earned run this whole regular season as the team's closer.  He sports a nifty 0.49 ERA.
Anyway, words cannot express, as they say.  I can vaguely remember the 2005 Big Ten Championship season.  That was when I was beginning to go to games and get interested in the program (certainly not at the level I am now).  I do remember the Big Ten Tournament since it was held at Illinois Field.
That was then and this is now.  The players and coaches are preparing for the tournament.  Fortunately, they have an extra day to prepare because of the bye (I've been to three tournaments and know how important that bye is).  Their first game will be on Thursday at 7pm.  Probable starter is Kevin Johnson.
Here are the tournament brackets if you haven't seen them yet and here are the final standings.
Plenty of more photos are here.
Congratulations Illinois!!
Related posts
Filed under: Game Recaps on May 22nd, 2011 by: Thomas Nelshoppen