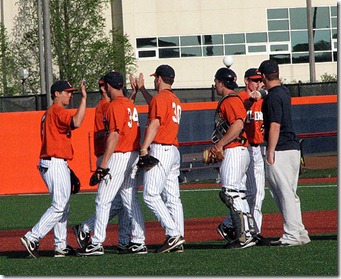 It was a good day to be an Illini fan today.  Illinois got their revenge for Friday night's loss by defeating Michigan 6-2.
However, it started out ominously enough.  Michigan's leadoff hitter, Pat Biondi hit the second pitch of the game for a homerun and I wouldn't blame Illini fans in the stands if they wondered if they were in for more drubbing similar to last night's 17-1 loss.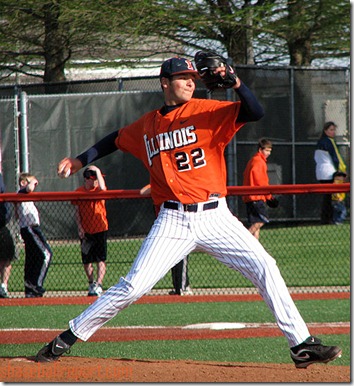 Kevin Johnson gave Illinois the pitching performance they needed
But starter Kevin Johnson bore down and kept at it.   That homerun would be the only run he would allow until the eighth inning.  All told he gave up just five hits and just one walk in 7 2/3 innings.  Nice work, Kevin!  Bryan Roberts pitched 1 1/3 innings of scoreless ball for his fifth save of the year.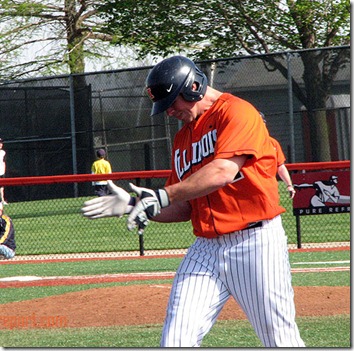 Argo celebrates after his bases loaded triple
Today, the Illini did something I don't think I've seen before.  Down 1-0 with no out in the fifth, Pete Cappetta led off with a bunt single.  Christian Cummins, playing second today, came to the plate and bunted again and reached on an error by the pitcher.  With first and second and no out, we in the stands were kidding around saying, "watch out, he might bunt again".  Well, Josh Parr did just that.  Not only did he bunt but he reached base on the thirdbaseman's boot.  After THREE bunts, we had the bases loaded and no outs.  Willie Argo was up next and no. he did not bunt.  Argo laced a triple to center.  A quick three rbis.  In all, we scored five runs that inning and that was the difference of the game.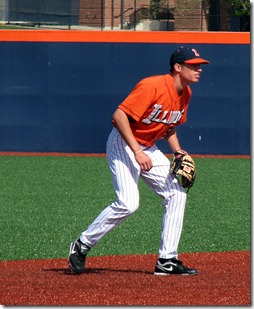 Great job in the field by Parr
The box score may show an E-6 but for my money, Josh Parr was the defensive star of the game.  Seemed to me he made some incredible plays out there.  They kept him pretty busy too.  He had six assists for the game.  Even his error was a bad throw probably caused by throwing off-balance because he had to make a nice dive to stop the ball.
No doubt about it, it was the most exciting game I've seen so far this year.  I'm hoping for a nice comfortable win on Sunday.
Go Illini!
Related posts
Filed under: Game Recaps on April 17th, 2010 by: Thomas Nelshoppen