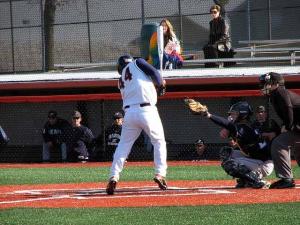 Casey McMurray takes one for the team on Friday
The 11-2 Illini jumped two spots in the Collegiate Baseball poll to #19 after their four game sweep last weekend over University of Akron Zips.  Indeed, the only time the Zips showed real life over the weekend was when the pressure was off with a 13-2 Illini lead during the second game of Saturday's double header.  That was when the Zips scored seven runs in the seventh and last inning.  Other than that, it was all Illinois.
Willie Argo, Aaron Johnson and Pete Cappetta were big offensive heroes against Akron.  Argo showing glimpses of his 3 homer game prowess in LSU, hit two doubles and a homer to go along with his .583 average for the weekend.  Johnson, who has been hot all year, drove in six.  Cappetta continues to overachieve, hitting .545 with three runs and a couple of steals.
How good of a season is Phil Haig having again?  He gave up just one run on Friday yet his season ERA still jumped .25 points.  It's still good for tops in the Big 10.
Willie Argo isn't the only freshman making a good impression on the fans.  Secondbaseman Josh Parr is leading the team in hitting with a .432 average.  Parr also has 5 steals in 8 attempts.
It's back to practice for the Illini as they are gearing up for their spring break trip beginning March 20.  First stop… Lakeland, Florida where they will take on Army.
Good Luck Illini!
Related posts
Filed under: Game Recaps on March 17th, 2009 by: Thomas Nelshoppen