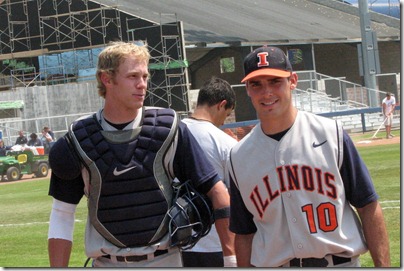 College days:  Lars Davis and Tanner Roark celebrate their win against Iowa in the Big Ten Tournament in 2007
Illini baseball fans might want to keep an eye on off-season pro league action this year.  There are a couple former Illini playing this year.
In the Arizona Fall League, 2007 Big Ten Player of the Year Lars Davis is now playing for the Salt River Rafters.  So far this season, he's rapped three hits including a double.  Not surprisingly, he errorless behind the plate.  MLB.com announced his arrival on the Colorado Rockies web site:
Lars Davis is a former Big Ten Player of the Year at Illinois and a one-time volleyball star. Davis, a catcher, was a third-round selection (102nd overall) in the 2007 Draft. The 26-year-old has logged more than 400 Minor League games in six seasons, including the past three years at Tulsa, where he hit .287 with nine home runs and 43 RBIs.
A "a one-time volleyball star"??  I have to admit, I never knew that about Lars.
Somewhere closer to the equator, playing in the Venezuelan League, former Illini pitcher Tanner Roark has started out pretty well.  In his first three starts with the Bravos de Margarita, he's sporting a 3.46 ERA with 11 Ks in 13 innings.
Roark, who is currently with the Washington organization just finished out the summer with AAA Syracuse.
Good luck to both!
Related posts
Filed under: Former Illini in the pros on October 27th, 2012 by: Thomas Nelshoppen