The Quad-City Times has a write-up on a new Illini baseball recruit.  His name is Cody Sedlock from Rock Island Alleman (IL) High School.
One year ago, Sedlock was part of the Rock Island American Legion team that won the Illinois state title championship.

This spring as a junior, the right-hander led the Pioneers to a state runner-up finish in Class 2A. He finished with a 10-3 record and a 2.91 ERA, striking out 108 in 81 2/3 innings.
Sedlock seems pretty excited to play for the Illini.  He tweeted his announcement yesterday.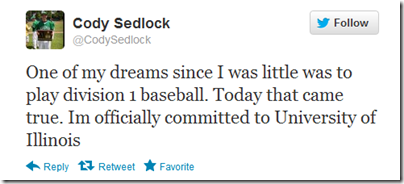 Sedlock is a senior at Alleman this coming fall so we'll have to wait a year to see him in college action.  Given his credentials, it will be worth the wait.
Related posts
Filed under: Recruits on August 11th, 2012 by: Thomas Nelshoppen