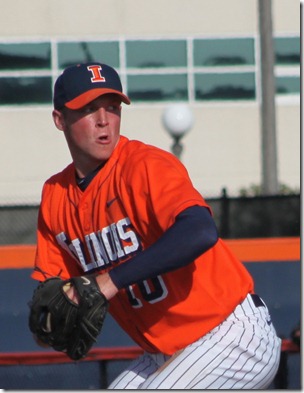 Milroy:  3 IP, 0 hits, 4 Ks… and a loss
Those fans who went to both Friday's and Saturday's game saw a very different game today.  Unfortunately, the ultimate result was the same as Michigan State eked out a win in extras in 10 innings by the score of 6-5.
I don't believe in omens but in baseball, I have an exception to the rule.  I arrived a little late to the game and as I crossed Florida Avenue, I saw I ball flying over the left field wall for a homer.  I remember thinking that I hoped I was late enough for it to be the bottom of first inning. Rod, the friendly gate person at Illinois Field who came back to retrieve the ball, indeed relayed to me that it was hit by one of ours.  As I entered the park, the PA announcer confirmed it was 3-0 Illinois thanks to Jordan Parr's fifth homer of the year.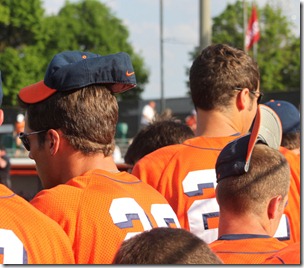 Rally caps were ineffective today
A 3-0 start is a good of a beginning as any but starter John Kravetz had some troubles in the second with the MSU lineup. The Spartans scored five runs off of him in the inning putting Illinois back in the hole.  Before we get too hard on Kravetz, he made a pretty remarkable comeback.  He rebounded and pitched five more shutout innings allowing just two hits for the rest of his stint. 
That was enough for the offense to get Illinois back in the game.  Reid Roper and Willie Argo both singled in the fifth and with the bases loaded, Brandon Hohl knocked a two-run single to tie the game. 
How's that for an omen?  On 5/5 (May 5) in the fifth inning, the Illini tied the game 5-5.  Furthermore, that score stayed that way for five innings. 
Matt Milroy came in for the 8th.  He pitched pretty dang well actually.  He struck out four and didn't even give up a hit in his three innings and the deciding run for Michigan State in the 10th was an unearned run that scored on a double play.  Put Milroy's loss in the "What else do I you need from me?" category. 
Next Up
Last game of the Spartans series is scheduled for 1pm Sunday at Illinois Field barring any weather issues. 
Related posts
Filed under: Game Recaps on May 5th, 2012 by: Thomas Nelshoppen