Maybe they should wear those camo jerseys more often. 
Illinois having lost the first two games to Michigan State, salvaged the series with a 8-6 victory over the Spartans.  The Illini scored two runs in the seventh to put it away and Reid Roper earned his first save of the year (really?  His first?  that one threw me a bit).
Ronnie Muck got the win Sunday, also his first.  Muck walked three and allowed two hits but the Spartan only managed to score one off the righty. 
Kelly Norris-Jones got things going for the Illini in the second inning when he singled home Jordan Parr.  The next inning, Thomas Lindauer scored practically by himself.  He doubled, went to third on a wild pitch then scored on a passed ball. 
It was the wild fourth inning when things heated up for the Illini bats.  Thomas Shelton led off with a double.  A hit-by-pitch and two wild pitches later, Will Krug grounded home a run followed by Willie Argo's double which drove home the third run of the inning. 
Going into the bottom of the 7th, things were knotted up at 6-6 but Illinois had rally on their mind and no intention of this game of going into extra innings.  Jordan Parr led off with a base hit.  MSU pitching was still going through control issues as they walked Reid Roper.   Norris-Jones got his second hit of the night and Bill Charvat was hit by the pitch scoring Parr.  Just for a little insurance, Lindauer's sac fly ball drove home Roper. 
Those two runs held and Illinois won 8-6. 
Stats:  Jordan Parr was 3 for 5 with a double and a SB for the night… Lindauer 1 for 2, 2 rbis, 2 runs and a double…  Norris-Jones was 2 for 2 with 2 rbis and Willie Argo had a 2 for 4 night with a double. 
So where are we now?
Looking at the Big Ten standings, we won't know how important Saturday's extra inning loss will be for a couple of weeks.  It WAS good to get Sunday's win, that much is for sure.  Right now, the Illini are 9-9 and tied for 7th with Nebraska.  More importantly, there seems to be a big glut of teams right in the middle of the pack.  There's a three-way tie between Michigan State, Minnesota and Penn State each with a 10-8 record. In sixth place at 11-10 is Ohio State.
And who do we play next weekend??  Penn State at Happy Valley.  I know I said this last weekend but that will be a BIG series. 
Illini placed on Award watch lists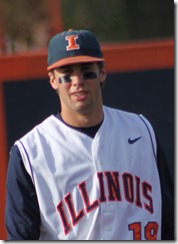 A few deserved acknowledgements…  Illini shortstop Thomas Lindauer has been placed on the Brooks Wallace Watch List.  As well he should, Lindauer (left) has been a key component of the team all year both offensively and in the field.  Here is the Brooks Wallace watch list.
Also, it has been announced that Reid Roper has been put on the John Olerud Award Watch list.  Roper has done it all this year.  He's hit, played second base, come out of the pen to close out games.  And he's done it all well.  Here is the John Olerud Award Watch list
Congrats to both Reid and Thomas!!
Next Up
No midweek games this week.  The Penn State series is next up on the schedule.  Friday's game is 5:05pm at Penn State. 
Related posts
Filed under: Game Recaps on May 7th, 2012 by: Thomas Nelshoppen