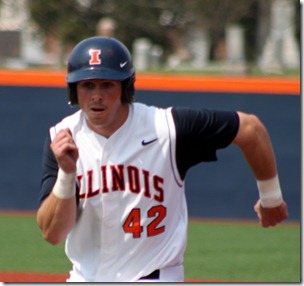 Will senior Willie Argo help his team to victory in 2012?
As I say before every opening series, now it's gets real.  However in 2012, it REALLY gets real.  With the announced 2012 schedule which is one of the toughest the Illinois baseball team has seen in a while, we will see if the 2011 season was fluke or if they are the real deal.   And it won't be long before the Illini get tested.  At the Big Ten/BIG EAST Challenge, they will face two nationally ranked teams.  On Saturday, the good guys will take on #25 Louisville and on Sunday, they oppose #27 St John's. 
Fightingillini.com has their Big Ten/BIG EAST Challenge tournament preview up and as usual, it's chock full of useful and interesting info.  One big question has been answered already… who's going to be on the mound??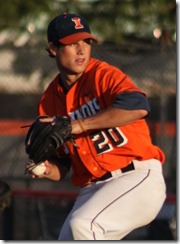 It looks like Kevin Johnson is going to repeat as the Friday starter (let's get him some runs, guys!).  But check out the Saturday starter… freshman lefty Rob McDonnell.  I've been hearing good things about Rob since he came to the Illini.  Now's his chance to show us what he's got.  Finally, on Sunday, it's the return of Nick Chmielewski (right).  It's been a long road back for Chm and from all reports, he's more than ready.  I'm excited to see what he can do for us in 2012.
Of course, many questions still remain.  Such as what starters will we see and what the lineup will look like.  I'm curious what role Willie Argo will play.  Logically, Argo could produce in any place in the lineup whether it be leadoff or a run producing slot.  But as we've seen in the past, he will settle in one role and become more productive.  It's just a matter what role that is and how long that will take.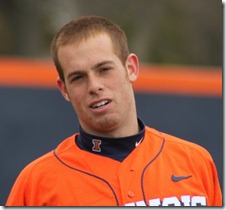 Of course, another big question is who Coach Hartleb will put behind the plate.  Between Alex Lincoln (left), Kelly Norris-Jones, Ryan Arrick and Brent Kuper, he has four legitimate options right now.  He may have his mind up or he might try them all out for a few weeks and settle on one by the time the conference season comes around. 
Illinois is 4-5 at the BT/BE Challenge in the four year of its existence.  I'm sure in the back of their minds, they're thinking they would like to come out of the 2012 out of the red. 
Here is a quick rundown of the three games this weekend.
Norte Dame Fighting Irish

February 17, 2012
12:00 noon ct
Walter Fuller Complex
Clearwater, FL
Program website link
2011 Record
23-29-1 (Big East 13-13)
Head Coach:  Mik Aoki
Key player:
Trey Mancini
The Irish are under a new coach since last season.  Mik Aoki joined the team in July of last year. 
Keep an eye out for Trey Mancini who won 2011 Big East Rookie of the Year honors. He's got some pop (9 HR and 34 rbis in 2011) to go with his .323 batting average.
#25 Louisville Cardinals

February 18 , 2012
3:00 pm ct
Al Lang Stadium
Clearwater, FL
Program website link
2011 Record
32-29 (BIG EAST 14-13)
Head Coach:
Dan McConnell
Key player:
Stewart Ijames
Coming off a barely winning record in 2011, Louisville is picked to place second in the BIG EAST this year.  They're looking for RF Stewart Ijames who hit 11 homers in 2011, to have a good year.  He was placed on the pre-season All-BIG East team, if that means anything. 
#27 St. John's Red Storm

February 19 , 2012
9:00 am ct
Jack Russell Stadium
St Petersburg, FL
Program website link
2011 Record
36-22 (BIG EAST 18-8)
Head Coach:
Ed Blankmeyer
Key player:
Jeremy Baltz
Coming off a fine year in 2011 which saw them as the BIG EAST champion, the Red Storm are probably anxious to defend their title as well as their formidable 36-22 overall record.
LF Jeremy Baltz has already raised eyebrows by being noticed by Baseball America.  He's been named BIG EAST Preseason Player of the Year and Preseason All-America Second Team. 
Following the Big Ten/BIG EAST Challenge Games
If you want to follow the Illinois games at the Big Ten/BIG EAST Challenge, you have a couple of options.  On Fightingillini.com's baseball schedule page, will find a link to Gametracker for all three games.  Watching an interactive boxscore may not be everyone's cup of tea but I have to say they've made great improvements on it in the last two or three years and I enjoy keeping up with the games while I work.  It's certainly not the same as being there but it works for me. 
The audio for Friday's game with Notre Dame will be streamed live.  You can access it via ND's schedule page.  I'm not sure if there is a cost involved with this. 
Also, Louisville's game on Saturday will be streamed.  There will be a cost for this one.  Here is the link for this one. 
One more thing…
Finally, if you're on Facebook and you want to get Illinois Baseball Report updates, consider 'liking' the IBR Facebook Fan page.  You'll get an update in your Facebook feed whenever I post an article on the website.  Let's face it.  It's easier than coming back every day. 
Good luck this weekend, Illini!!
Related posts
Filed under: Game Previews on February 16th, 2012 by: Thomas Nelshoppen