A couple of former Illini pitchers are having some success for their respective minor leagues teams.
Slammin' Pack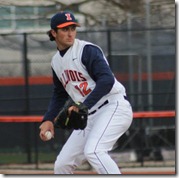 Chris Pack, who was instrumental in Illinois' success in the 2011 season as a reliever, is showing that same effectiveness for the Joliet Slammers.  Thanks in part to Pack (left, pitching for the Illini against Indiana State), the Slammers just clinched the Frontier League's East Division title with a 54-38 record on Thursday.
Pack did well out of the pen.  In 21 games, he had a 3.55 ERA and allowed just 23 hits in just over 26 innings.
Good luck in the playoffs!!
Senator Roark
This is late news and for that I apologize but this is worth mentioning.  Former Illini starter Tanner Roark who now pitches for the Harrisburg Senators, was named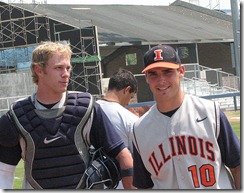 Eastern League Pitcher of the Week back on August 1.  Roark (left in Illini days with batterymate Lars Davis) struck out 10 in over 14 innings and won both of his games.
Interesting point about Roark… back in August 1, the article shows his record as 6-7 with a 5.47 ERA.  Looking at his numbers now, he's 9-8 with a 4.75 mark so things are looking up for Tanner!
Congrats, Tanner!
A note or two about news items
Believe it or not, not every news item I post here I don't find myself.  Some are forwarded to me by Illini fans.  There is one in particular who doesn't want to be named but I do want to recognize this person by saying thanks because with these news tidbits being forwarded to me, IBR becomes a more enriched website.
What's my point?  If you see a news item on the web regarding Illinois baseball, former Illinois baseball players in the minors or anything that people who visit this site might want to read about, please don't hesitate to let me know.  To that end, I've created this handy web form so that you can contact me via email.
For that matter, you can just contact me just say hello. I like that too.
I'm looking forward to hearing from you!
Related posts
Filed under: Former Illini in the pros on September 3rd, 2011 by: Thomas Nelshoppen