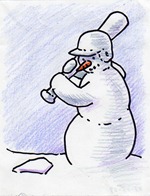 I've gotten some questions both online and in person about the early home opening series against the Bradley Braves on February 20-21.  Let's clear a couple things up:
no, it's not a typo
and no, the team won't be playing in any local indoor facility
Nice try. 
Those who show up on that weekend will be showing up in brisk February weather to see Illinois play at Illinois Field. 
In contacting the sports information director of the baseball team, I've gotten a little background on the scheduling difference.  Apparently, this comes about because the southern schools banded together and convinced the NCAA to add a week to the front of the college baseball schedule.  Obviously, there wasn't a whole lot of support from the northern schools… University of Michigan coach Rich Maloney was a big (and outspoken) opponent.
So long story short, Bradley was the best choice for Illinois. 
Unless we get a real warm spell then, I don't expect huge attendance.  But still, I think it would be good if the program would market this series in a fun, creative way that would put the baseball program in people's minds for the rest of the spring.
Any cool promotion ideas?
Related posts
Filed under: Announcements on December 21st, 2009 by: Thomas Nelshoppen