I remember two years ago I was talking to a father of one of the players at the 2007 Big Ten Tournament.  He shared with me that he wouldn't be surprised if then freshman Brandon Wikoff would set the hits record for Illinois provided he played all four years.
Fast forward two years to 2009.  A junior, Wikoff has been an integral part of the University of Illinois baseball program for three years now.  This year as Illini's #3 hitter he has taken it to a different level.  Wikoff is simply an offensive threat whenever he's up to the plate, leading the team in batting average and runs.  Oh yes, hits too.
Wikoff was gracious enough to take some time to answer a few questions for the Illinois Baseball Report.
Considering the players' hectic baseball schedule at this time, I want to extend my thanks to Brandon for doing this.  Also much thanks goes to Assistant Sports Information Director Ben Taylor for facilitating the Q&A. 
(Note: In case you're wondering, I submitted my questions to Brandon before the Penn State series.)
Illinois Baseball Report:  You're having a heck of year with the Illini this season.  You're leading the team with a .375 average and 36 runs.  You've played every day at short, playing great defense and even hit for the cycle.  Beyond the usual cliches, what's your secret?

Brandon Wikoff:  Honestly, I do not have a secret or certain superstition that I do prior to games or practice.  I think that consistency is the main thing and coming to the field every day trying to prepare and get my work in.  I have been struggling a little bit as of late, but I still take the same approach to the plate every time and try not to change anything.  I think that consistency with staying with the same approach is what has allowed me to be successful.
IBR:  I see your dad out there every home game cheering you and rest of the team.  What kind of influence did he and the rest of your family have on you in your playing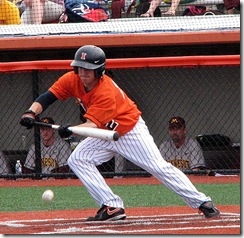 career?

BW:  My family has had a huge impact on my sports career.  My mom comes to most of the games as well and they have supported me throughout my career.  They got me into the game as a child and have made many sacrifices with their lives in order for  me to go to tournaments and games around the country.  They both have supported me more than I could ask for and am thankful for it.
IBR:  Ok, tell us the truth… Coach Hartleb, is he a strict disciplinarian or a player's coach?

BW:  Coach Hartleb is more of a player's coach than a disciplinarian.  He will get on us every once in a while, but most of the time it is well deserved.  He is an easy coach to play for and allows you to play the game and have fun.
BW:  There is no question that it was the Friday night game at LSU.  It was the single greatest sports moment I have had in my life and something I will never forget.  I have never experienced a crowd like that.  They were so energetic and had such a passion for the game.  When Aaron Johnson hit that home run I will never forget the excitement you saw in our dugout and to see their fans go silent.  It was an amazing experience and something I will never forget.
IBR:  As I write this, Illinois is 8-4 and 3rd in the Big Ten and I've made my reservations for Columbus already.  Is the team pretty confident about making the Big Ten Tournament?  What about a Big Ten championship?  Or are they, as they say, taking it one game at a time?

BW:  I think that this team is extremely confident in making the Big Ten Tournament.  We are in a position right now where we are tied for first and still play the team we're tied with.  We have two games this week before a big conference series this weekend against Northwestern.  We can put ourselves in a good position in the Big Ten following this weekend and I think that we are confident we can do so.
IBR:  I'll leave my final question intentionally vague.  You are currently a junior now.  How do you see your future as an Illini?

BW:  I try not to think too far ahead and just focus on the current season that we have going.  I am excited for this year and what this team is capable of doing.  We have a chance to win the Big Ten this year and I am excited about that.  I will see what happens after the year and take it from there.  As for now, I am excited about this our team's chances for the Big Ten as well as beyond that.
Thanks again to Brandon Wikoff for his valuable time!!
Related posts
Filed under: Feature on April 27th, 2009 by: Thomas Nelshoppen