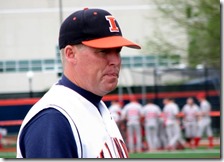 The news that Coach Eric Snider has been hired by the Louisville Cardinals as an assistant coach is very bittersweet indeed. 
Coach Snider has been with the Illini since 1999 and has been head coach Dan Hartleb's right-hand man since he took over.  He's a smart baseball man and quite known for recruiting talents.  He can lay claim to 27 recruits who have gone on to professional baseball. 
Coach Eric Snider's Timeline
1992-1993 Champaign Colts Manager

1992-1995 Austin Peay State Assistant Coach

1995-1998 Waterloo Bucks GM/Head Coach

1999-2008 Illinois Assistant Coach

2008-2014 Illinois Associate Head Coach
It will be an exciting move for Snider and I'm begrudgingly happy for him.  The fact that Louisville wants him on their team, says a lot about the man.  The Cardinals are consistently in the ranked in the top twenty in the nation. 
What does Illini head coach Dan Hartleb say?
"Eric is an outstanding recruiter and has done a great job throughout the country, in particular in the Midwest. He has a great eye for talent and will continue to bring in quality players to the University of Louisville. He has a great offensive mind and does an excellent job relating to players. He teaches the necessary skills and mechanics to be a successful hitter at the highest levels of baseball. Eric will be a great asset for the University of Louisville."
From where I stand, Coach Snider has always had a good rapport with Illini players, parents and fans. For me, it will not be the same without him in his usual spot as the third base coach. 
Thanks and good luck Coach Snider!  And remember, it's Loo-ah-vul. 
Related posts
Filed under: Off Season Happenings on July 15th, 2014 by: Thomas Nelshoppen