The Fighting Illini Baseball program released their official 2014 season preview on Friday.  Complete and thorough, it answers a few questions.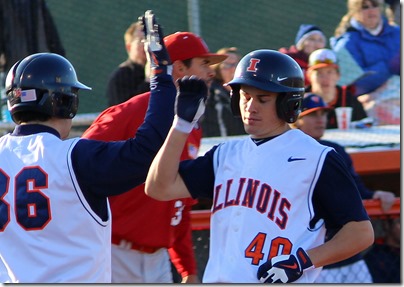 In a nutshell, the young 2014 team has lost its entire outfield and the left side of the infield from last year but the pitching staff is relatively untouched with the exception of Kevin Johnson.  Considering that the Illini's 2013 ERA of 3.76 is the lowest since 1976, that really good news.  Also, speedster Will Krug is back from an injury-plagued 2013 and from all reports, he raring to play.   Considering that he was a potential starter in the outfield in '13, that bodes well for the Illini offense.
In depth look at pitching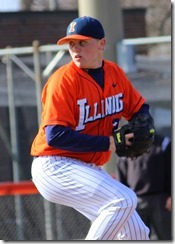 From the looks of things, we're going to see a repeat of Kevin Duchene (9-1, 2.79 at right) on Friday nights and John Kravetz (5-3, 4.27) on Saturdays.  Drasen Johnson (3-1, 3.07) has graduated to starter and will pitch on Sundays at least at the start of the season.  To be honest, that doesn't surprise me. I anticipated this move.  Ryan Castellanos and freshman Cody Sedlock will be waiting in the wings for their chance as well as helping out with long relief.
Bullpen!  We have it!  I remember those years when our bullpen consisted of one reliable pitcher.  In 2014, we have plenty of arms to depend on.  Sometime secondbasemen Reid Roper (2.53, 5 saves) and Ronnie Muck (3-1, 2.70) will both have chances to save in 2014 but it doesn't stop there.  Effective lefty Luke Joyce is back as is Rob McDonnell.  Tyler Jay, Nick Blackburn and Nick Milazzo will certainly see some innings as will freshman Matthew James and transfer Ike Greenspon.
In-depth around the diamond
I've already mentioned junior Will Krug.  He'll be playing center field.  Batting .305, he started out great before his injury in 2013.  Surrounding him will be two newcomers to the lineup.  In right, we might see transfer Casey Fletcher.  Mr. Fletcher won't have to rely on his lineage to get his spot.  He comes with fantastic reputation from Kankakee Community College.  Not only that, he hit a walkoff homer in the last game of the Orange and Blue Series.  He will be fighting it out with Chase Hainline for the rightfield spot.  In left, we will see either sophomore Ryan Nagle or frosh Pat McInerney.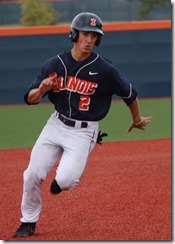 Both third and short are up for grabs with the departure of Brandon Hohl and Thomas Lindauer.  Top choices for these spots are shortstop Zack Kolakowski (left) and thirdbaseman Rich Gorski.  Both players really impressed me during last fall's Orange and Blue Series, especially Kolakowski.
Second base is one of Illinois' deepest positions.  Reid Roper (.266, 22 rbis) is the projected starter with Michael Hurwitz (.415 OBP) and Adam Walton as backups.  Hurwitz and Walton are both talented and versatile so expect to see them play.
First base?  Well, it's first team All-Big Ten David Kerian (.313, 39 rbis), of course.
Finally behind the plate, it looks like the Illini management will be going with Jason Goldstein this year with Kelly Norris-Jones as backup.
Uni number changes
Note: these uniform numbers will be changed from last year:
Drew Dickinson = No. 14 (wore No. 41 from 2012-13)
Jason Goldstein = No. 34 (wore No. 36 in 2013)
Zack Kolakowski = No. 2 (wore No. 37 in 2013)
Rob McDonnell = No. 16 (wore No. 14 from 2011-13)
Ryan Nagle = No. 9 (wore No. 44 in 2013)
Coaching staff change
Another big change… there will be a new coach joining the staff.  Helping out head coach Dan Hartleb, associate head coach Eric Snider and assistant coach Drew Dickinson is newcomer Luke Stewart in the role of volunteer assistant coach.  You can see Coach Stewart's bio here.   Coach Stewart has familial ties to Illinois.  His father, Jeff played for the Illinois football team.
The Illinois baseball season begins this coming Friday against Georgia State.  Last fall, Illinois Football finished last in the Big Ten.  Men's Basketball is currently last and so is Women's Basketball.  The University of Illinois needs a winner and while the Big Ten Baseball conference is tough, we may have one.
Go Illini!
Related posts
Filed under: Announcements on February 8th, 2014 by: Thomas Nelshoppen