Once again, it was a one-run game at the Big Ten/Big EAST Challenge tournament in St Petersburg, Florida and once again Illinois was on the losing end of the match. They lost to the Louisville Cardinals, 4-3 (boxscore).  Other than that, there wasn't much similar to Friday's game with Notre Dame.
For one thing, both starting pitchers seemed to keep things well in hand.  Despite getting the loss, Illinois freshman Rob McConnell certainly shouldn't be too embarrassed about his college debut.  He did pretty well.  He shut out the Cardinals for the first four innings and just allowed a run each in the fifth and sixth innings.  Overall, he spread out seven hits in 5 2/3 innings and struck out four and walked just two.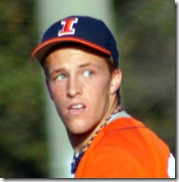 Reliever Ronnie Muck got McConnell out of a jam in the 6th inning but got into one himself in the 7th.  Two Cardinals scored off of him before Drasen Johnson came in relief.  Johnson (right), by the way, did a fantastic job out of the pen, pitching 2 2/3 innings of scoreless ball to finish the game. 
Cardinal pitching held Illinois to six hits overall and kept them scoreless through the first six innings.  The Illini offense put things together for a rally in the seventh, however.  Keyed by a leadoff hit by Justin Parr, they loaded the bases with no outs. Singles by Willie Argo and Davis Hendrickson both scored runs but a double play help squash an Illini rally and the score remained 4-3. 
Around the Big Ten
From the Big Ten baseball blog, here are Friday's results:
South Florida def. OHIO STATE, 5-3 [a]
IOWA def. Pittsburgh, 7-5 [a]
West Virginia def. NORTHWESTERN, 7-3 [a]
Notre Dame def. ILLINOIS, 13-12 [a]
Connecticut def. INDIANA, 8-0 [a]
MICHIGAN STATE def. St. John's, 11-4 [a]
Seton Hall def. PENN STATE, 6-3 [a]
Pittsburgh def. MICHIGAN, 9-8 [a]
Gonzaga def. NEBRASKA, 7-4 [b]
MINNESOTA leads Louisville, 7-3 (play resumes at 12:30 p.m. ET on Saturday) [a]
PURDUE vs. Cincinnati – postponed (Saturday, 7:30 p.m. ET) [a]
Kudos to Iowa for getting off to a good start and representing the Big Ten against Pitt.  Also, I'll bet the MSU fans were happy about their team's 11-4 drubbing of a quite formidable St. John's squad. 
On a slightly different vein, I want to pass on this University of Illinois baseball preview by Steve von Horn of SB Nation. 
Next Up
Tomorrow (Sunday) is the final game for the Illini at the B10/BE Challenge.  They'll be taking on the Red Storm of St. John's.  Nick Chmielewski will make his return on the mound.  Wake up early, everyone.  It's a 9:00am CT game.
Go get 'em, Illini!
Related posts
Filed under: Game Recaps on February 18th, 2012 by: Thomas Nelshoppen