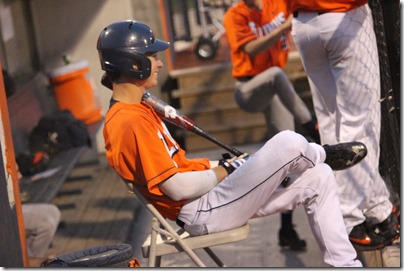 Casey Fletcher relaxes near the dugout innings before he hits his walk-off homerun
FightingIllini.com posted their wrap up of this week's annual Orange and Blue World Series.  It's complete with some highlights proving that at least someone was keeping score for the three games.
The Blue Team won the first two games behind the pitching efforts of Drasen Johnson and Cody Sedlock.  However, the Orange Team mounted a killer comeback in Game 3 highlighted by Casey Fletcher's walk-off homerun. 
So now, it will be another good four months before we'll see some baseball again.  In the words of the late great secondbaseman, Rogers Hornsby"
"People ask me what I do in winter when there's no baseball. I'll tell you what I do. I stare out the window and wait for spring."
With all due respect to Mr. Hornsby, players, don't just stare out the window.  STUDY! 
Tags:
Casey Fletcher
,
cody sedlock
,
drasen johnson
,
orange and blue series
Related posts
Filed under: Off Season Happenings on October 4th, 2013 by: Thomas Nelshoppen