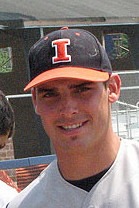 With a 7-0 record, Tanner Roark is quickly climbing the lists of former Illini pitchers with most wins.  No doubt, this is the quickest start any of them has gotten off to in such a short time.  Roark has won his seven games in just over a month.  His first game for the Nationals was August 7th. 
His latest victory was a 7-inning, two-hit scoreless gem against the Atlanta Braves on Tuesday. 
Generally, these haven't been cheap wins either.  Only once has Roark has given up more than one run in a game.  Cub fans can take solace that it was against their team when he gave up two runs in 1 2/3 innings.  With the Cubs' luck, Roark even got the win then, too. 
Roark now sports a nice 1.08 ERA with 32 strikeouts in 41 2/3 innings pitched for the Washington Nationals.
Tags:
mlb
,
tanner roark
Related posts
Filed under: Former Illini in the pros on September 18th, 2013 by: Thomas Nelshoppen