The last couple of days have been move-in days for the students as they get ready for the new semester at the University of Illinois.  First classes begin this coming Monday (study hard, players!)
If past years are any indication, the Illinois baseball team will be getting some practice in at both the Irwin Center and Illinois Field.  The practice sessions will culminate in the annual split squad Orange and Blue World Series.  Dates for the series haven't been set yet but it's usually occurs sometime in late September or early October.  Keep an eye out for dates.  The Orange and Blue Series is  a good chance to see the new team in action! 
Roark off and running!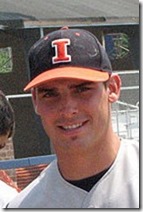 In case you haven't noticed, new big leaguer and former Illini Tanner Roark is already 4-0 in just six games. 
Roark was brought up to the majors just two weeks ago.  In 16 2/3 innings, he's struck out 12 batters and has a nifty 1.10 ERA too. 
Already, he's getting some good press from the Nationals fan blogs!
From District on Deck:
A list of this game's stars might start with Tanner Roark, just one year removed from 17 losses as a starter at AAA Syracuse. In his 6th big-league appearance, Roark righted the ship beautifully after Gio Gonzalez was roughed up, throwing 4.2 scoreless innings, allowing only one hit and keeping the Royals at bay on a night when it looked like Kansas City might have its way with the Nationals. 
Rumor has it on Facebook that a few Illini baseball alum (including Dom Altobelli and Wes Braun) went to see Tanner pitch last week.  Keep it up, Tanner!
Tags:
major leagues
,
orange and blue series
,
practice
,
tanner roark
Related posts
Filed under: Former Illini in the pros on August 24th, 2013 by: Thomas Nelshoppen