Keith LeClair Classic



Clark-LeClair Stadium




Greenville, N.C.

February 21, 2013

4:00 pm CT

vs


0-2

February 22, 2013

12:00 n CT

vs


0-2

February 23, 2013

5:00 pm CT

vs


2-2

February 24, 2013

8:30 am CT

vs


1-2
This weekend, Illinois Baseball will be taking part in the Keith LeClair Classic.  There's little chance the Illini will experience the cold and snow they did last weekend in Tennessee.  The Classic is held in Greenville, North Carolina.
Here's the official Fighting Illini tournament preview.  It's a four game weekend, mind you, so don't forget to tune in to the game on Thursday afternoon.  The boys will have to get up early for Sunday's game, too.  It's a 9:30am start.  Even earlier for us Midwest fans following on GameTracker who will have to get up at 8:30am.
The four opponents this weekend have a combined 2013 record of 3-8 so no team has really gotten off to a great start.  Don't let that fool you though.  East Carolina is known for their prowess in the college baseball realm.  New Mexico State sported a 35-24 record in 2012 (The good news?  They were 0-6 in neutral territory.)   The Bobcats of Ohio were 28-29 but finished strong with a 16-11 MAC record.
I suppose the Illini aren't excited to face any more Eagles, Golden or otherwise. Except for maybe Kevin Johnson.  Boston College is on deck for Sunday, though.  BC had a rough 2012 going 22-33 and had a rougher ACC record at 10-20.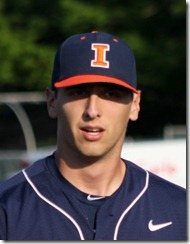 Historically, Illinois has played a combined three games against Boston College, East Carolina and New Mexico State.  We have seen the Ohio Bobcats plenty though and fortunately for us, we lead the series, 8-3.
Coach Hartleb will be going with the same starting pitchers as last weekend.  In addition to Kevin Johnson, Kevin Duchene and Nick Blackburn, he'll be adding sophomore John Kravetz (left) who will be pitching on Sunday against the New Mexico State Aggies.
Stat of the Week
Despite going 1-2 last weekend, Illinois leads the Big Ten in runs scored with 24 and hits (35).  I don't want to read too much into a three game series but still, that's a good sign for 2013.
Past players doing good
I mentioned earlier about Lars Davis getting an invite to the Rockies' spring training camp.  Looks like he won't be the only former Illini going South.  Ex-Illini pitcher Tanner Roark just received word that the Nationals issued him a non-roster invitation to their spring training as well.  Good luck, Tanner!
Speaking of former Illini, the Daily Illini had an interview with last year's draftee, Willie Argo this week.
Good luck this weekend, Illini!!
Tags:
boston college
,
east carolina
,
keith leclair classic
,
new mexico state
,
ohio
,
previews
,
tournament
Related posts
Filed under: Game Previews on February 20th, 2013 by: Thomas Nelshoppen