There was plenty of fist pumpin' action at Huff Hall last night where Jock Jams 2013 took place.  I really didn't know what to expect but really had a blast.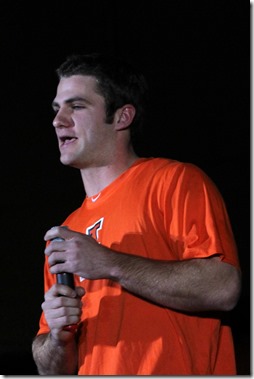 Illinois Baseball rightfielder Davis Hendrickson gets some of the credit for getting the word out among the Illini baseball fans.  But it was the freshman players who did the hard part.
Parents of freshman, you may want to avert your eyes.  Your kids probably never looked this good in colorful tights before.
They looked respectable enough at first…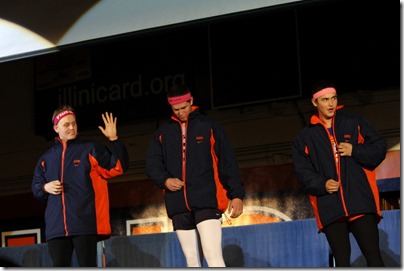 but things devolved pretty quickly…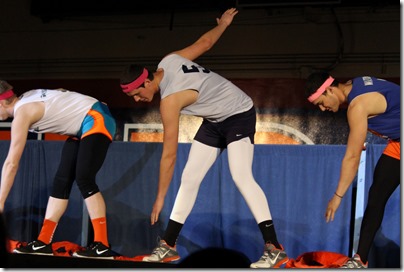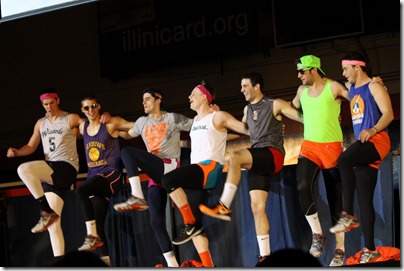 It was all done in good fun and money was raised for some good causes.  Thanks to Davis and the freshman crew.
By the way, the good people at Illini Productions have already released a highlights video of the action of Jock Jams 2013.
Our boys on the baseball team show up at the 6:05 mark in the video.
I put a few of my photos up on the Illinois Baseball Report's Facebook page and also on the IBR Photo Gallery.
Congrats to the Men's Track and Field who were judged as best in show and thanks to all who participated.  Great show!
Tags:
community
,
Davis Hendrickson
,
Jock Jams
Related posts
Filed under: Community stuff on February 28th, 2013 by: Thomas Nelshoppen