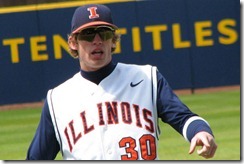 The Baltimore Orioles must have remembered something they liked in Kyle Hudson.  A little over a year after they designated the former Illini centerfielder for assignment, they signed him up again.
Word came down yesterday that the Orioles will be re-signing Hudson to a minor league deal. The deal reportedly doesn't come with a spring training invite so he'll be reporting directly to the Orioles' Twin Lakes Park complex for duties.
According to Roch Kubatko of masnsports.com, Ken Qualls, who is the Orioles' new director of minor league operations, confirmed the deal.
"Some of our people in the organization like him a lot.  He's definitely a speed guy. We just like his ability and we like his makeup."
After he graduated from the University of Illinois, Hudson was drafted by the Orioles in 2008 and got a cup of coffee in the majors in 2011.  After being DFAed in January of 2012, he played for the Tampa Bay and Philadelphia organizations for 2012 season.
Perhaps, he left lasting impression.   Good luck, Kyle!
Tags:
Illini who made it big
,
kyle hudson
Related posts
Filed under: Former Illini in the pros on February 9th, 2013 by: Thomas Nelshoppen